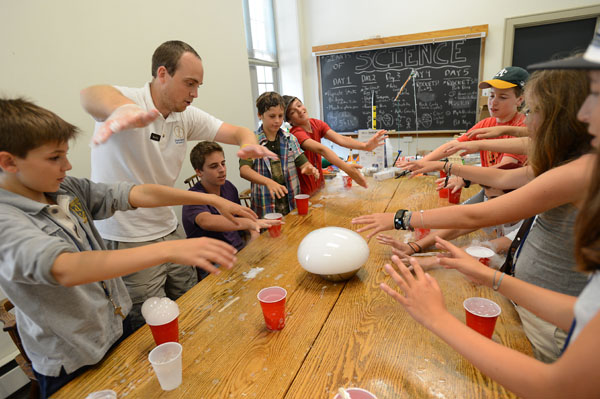 According to the National Science Foundation, only 35% of 8th graders met nationally established academic standards for math in 2011. For science, only 32% of these students were able to work at or above grade level in the same time period. There are many factors that contribute to that number. However, student interest is a common barrier to STEM education. Science summer camps for middle school students help parents instill a love of science and technology that leads to long-term success in STEM careers.
How Science Summer Camps for Middle Schools Students Are Making Science Fun
Standardized testing and large class sizes with diverse abilities challenge even the best school instructors. These circumstances make it difficult to provide stimulating material for more advanced students. It also makes it impossible to give extra attention to students who don't quickly grasp the lessons. Science summer camps for middle school students offer educational opportunities that inspire student's natural curiosity and encourage participation through personal achievement.
Since science summer camp curriculum doesn't have to stick to traditional standards, programs can include a variety of classes. Students choose the subjects that are most interesting to them. This self-directed freedom naturally boosts student interest, allowing them to learn facts and techniques in a fun way.
Traditional education focuses too often on memorization and lecture-style instruction for STEM subjects. Professional educators understand the importance of student engagement and active learning. Science summer camps for middle school students provide an environment in which hands-on projects and collaboration with peers and instructors fully engage students so deep learning can take place.
The flexible structure of science summer camps gives all students the chance to succeed. Students work at their own pace, using the tools and resources provided to explore the limits of their own abilities. Campers indulge in activities that naturally appeal to them instead of simply complying with preconstructed lesson plans.
Enrichment summer camps are designed to encourage a deeper understanding of STEM principles while inspiring creative thinking. Instead of grades, students receive real-world examples of the power of STEM and the confidence to apply those lessons in their own work.
Examples of Science Summer Camp Hands-On Learning Activities
Psychologists have linked states of emotional excitement to the ability to form stronger memories. Science summer camps for middle school students use hands-on activities to teach the fundamentals of STEM subjects. The combination of social setting and personal freedom creates an ideal emotional state for information retention. Students can expand their skills and flex their creative muscles with a variety of science-related courses.
In Crime Scene Forensics courses, students get to live out their police detective fantasies. Students explore a mock crime scene, collect evidence, and use various tools to analyze their clues. In the pursuit of their suspect, students work with DNA and blood spatter analysis, fingerprinting, and other real-world detective tools.
Explosive Experiments explores the destructive side of science. Students learn how violent chemical reactions power airplanes, shape the planet's surface, and help us explore the stars by recreating these processes in a safe environment.
In the Physics track, students get an up-close look at the laws that govern motion in our world. Building trebuchets, roller coasters, and rockets let students try out their engineering skills while gaining an understanding of how physics makes modern life possible.
Xploration science summer camps for middle school students combine high academic standards with proven techniques to encourage engagement and support personal growth. At Xploration camp, your child will find a love of science that will support their success in future career choices. Xploration also offers other classes. Students can take science classes one week and explore another track the next. Explore sports, arts, cooking, technology, and more! You're the architect of your experience, so be as creative as you can and discover your passion this summer! Also available to day campers; learn more about our day camp program.
More Resources About Enrichment Programs For Middle Schoolers: