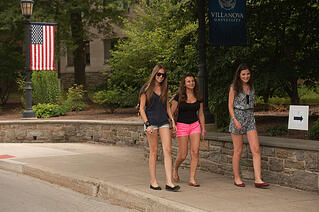 Millennials, make room for the 82 million new kids on the block. Generation Z has crashed the party, changed the playlist, and revamped the atmosphere. It's their time to bask in the spotlight — and perplex their primarily Generation X parents.
As a whole, Gen Z — children born in 1996 and later — has made a staple of bucking the system, sometimes in relief-inducing ways. Not only are they turning their backs on early alcohol use, but they're experimenting with sex less frequently than their Millennial counterparts. You're more likely to find a Gen Zer watching Netflix and Snapchatting than hanging at the mall. And driving? The members of Generation Z don't think it's worth their time to get a license when they just travel from the bedroom to the kitchen and back again.
Almost half of today's teens report being happy. They find solace and connection in their native tech ecosystems, from social sites to group text chats. Eighty percent of middle and high schoolers have smartphones at the ready, and they use them to the hilt. At the same time, they cling fiercely to independence within parameters (sometimes self-created).
What's the problem, then? Despite the fact that these children give parents fewer sleepless nights and gray hairs, Gen Zers aren't growing up as fast as their 1980s and '90s counterparts. When they get into the adult world, they're destined for big wake-up calls unless moms and dads take the initiative to guide them into opportunities to spread their wings. In other words, Gen Zers need to be nudged from the nest — lovingly — with a view to their futures. Parents can cultivate "adultism" by keeping these four principles in mind:
1. All children deserve exposure to ignite current and future passions.
Generation Z may behave in novel ways, but they retain the same human needs that we all did at their age. A big requirement is for them to have the chance to explore their interests, especially the ones that could lead to career paths.
Not sure when to fit experiential learning in? Summertime offers exceptional opportunities, especially with daytime, extended, and overnight camps that connect kids with pre-professional opportunities like those provided by Julian Krinsky Camps & Programs. Participants leave the camps with insight into established and emerging industries, and they gain important self-knowledge and critical thinking skills.
To read more, see the original article on Today.com, click here.